Charice had a mini live concert last December 19th at the Tokyo City View of Roppongi Hills as part of Japanese radio station J-Wave's winter campaign. According to her Warner Music Japan website, she will be featured again on J-Wave's "Curious" program on December 30th, from 11:30-14:00 Japan time.
Here are snippets of the concert which was featured on Japanese TV.  Thank you to flipninjashadow for the raw video and to miyi for the subtitles and encoding.
Uploaded by tmgtwJapan
I attended the concert and here is my story.
I didn't win the raffle for tickets to the mini live concert but I decided I was going to go however long it took to line up. I was in the vicinity 6 hours before the concert and I called the venue hours before to ask if there was already a line and they said that there was no line yet but many people were already calling to ask. Hearing that, I decided to line up at 3:00 for the 6:00 pm concert.
When I got there, there were 5-6 people already in line, all Japanese. As time went by, the line got longer and it was interesting to see that she has fans from all ages and both male and female. There were teenagers, grandpas, grandmas, 30 year old yuppie types, 40 year old married couples, even a few children. I would say 99% were Japanese and there were a few Filipinos like myself.
There was a Japanese family of 3 in front of me in the line whom I dubbed the ultimate Japanese chaster family! They came all the way from Kyoto just for a few minutes with Charice. The dad was a little older, I would say in his late 50s and the mom probably in her early 40s. Their kid was a kindergartener. The mom had a Charice pin, the dad a Charice cap and get this, he had the charicemania logo sewn on his shirt! He said he made them all just to show his support for Charice. We talked for the 3 hours we were in line, and it was interesting to hear his opinions (he wishes her Japanese stylist would raise her hat up a little so that her eyes could be seen; he likes her outfits overseas more – I mentioned most people overseas love her japanese outfits!) but he was unequivocal in his support for Charice. I thought I was already a chaddict, but this family even brought their Charice YT videos with them! The mom had a gift for Charice too, I do hope she was able to give it to her since security was tight.
I have never met other chasters in real life so I was also glad I was able to talk to Amor! She was the first one to comment on the previous article about the mini live concert. She came with a group of fellow Filipinos and they went straight to the stage. I went after them to tell them that there was a line because people near the stage would not be allowed in the concert without lining up first.
The organizers had 60 people in first, the ones who won the raffle. They then allowed only up to another 60 people, so it was a really small venue which made video taking without being caught almost impossible. They did say no pictures, no videos allowed but I managed to sneak taking a picture, not a video because I couldn't hold my camera up long enough. There was this smart chaster beside me though – he covered his phone with a handkerchief so from behind him it looked like he was just holding his hanky but actually he was filming the whole thing. If you are reading this, please do share!
There were 3-4 professional cameras behind us on tripods because, good news here, the whole mini live concert will be aired on Japanese TV! Japan chasters, please set your DVRs on Jan. 19 for the NHK TV program "Songs" from 10:55 pm Japan time. So if we don't get any fan vids from last night, we will at least have it on NHK TV.
She sang three songs: Pyramid, In This Song and Happy Christmas. She was wearing a Michael Jackson-esque outfit with a black hat and a red blazer with pointy shoulder pads. Her make-up was her signature Japanese-style make-up. After she sang her songs, the emcee talked with her for a bit about her story. The emcee also asked her to do her impersonations! She did Lady Gaga's Bad Romance, Justin Bieber's Baby and Britney Spears' Oops I Did It Again to the utmost delight of the audience! The couple beside me coudln't believe it, they were in shock LOL. But what struck me the most was what the emcee said: in her 10 years in the music business, she has never met anyone as great as Charice!
I was on a high after the concert, not only because she performed at the 52nd floor of a major Tokyo landmark, but because I was able to see her up close and it felt like a small party for just a few. I wouldn't expound on her vocals because she nailed them as always, but what made me really happy too was finally feeling in real life the sense of community we have here at charicemania.
Can't wait for February – I know in my heart we chasters will have the awesomest time!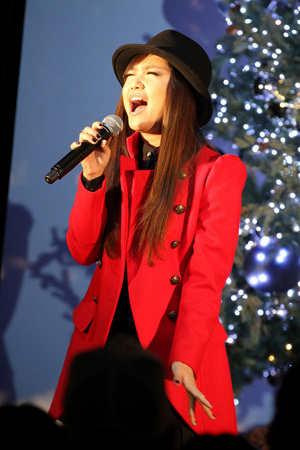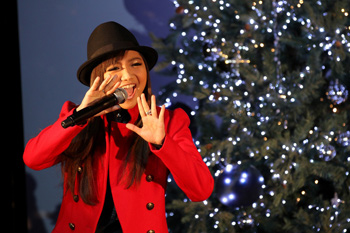 Now here is a translation of a professional review featured in the website "Barks Global Music Explorer".  Be sure to click on the source link below to see beautiful pictures of Charice!
Charice's Singing Voice Resounding Throughout the Beautiful Night-time View
Charice put on a show with an overwhelming performance at J-Wave's "Happy Christmas Live" which was held at Roppongi Hills' Tokyo City View.
J-Wave's slogan for 2010 is "Feeling a little kinder than usual this Christmas" so they came up with the theme "Love and Peace" for their winter campaign while also keeping in mind John Lennon's desire for love and peace conveyed in his song. Charice is the one who covered his song "Happy Christmas (War is Over)" which is J-Wave's winter campaign song this year.
Appearing on stage and wearing a red jacket, Charice immediately sang her big debut hit "Pyramid" (featuring Iyaz), overwhelming the audience with her impressive performance. She then sang "In This Song", the second single from her debut album. For her third song, she sang "Happy Christmas (War is Over)" which she recorded during her last visit to Japan. Giving importance to John's message, Charice performed it respectfully and with much heart.
After singing three of her own songs, Charice gamely agreed to J-Wave's DJ Ayaka Miyamoto's request to cover some of her favorite artists' songs. The fans were really happy to hear Charice's impersonations. Beginning with her idol Celine Dion, she also covered big hits of Lady Gaga and Britney Spears. She also covered a song of Justin Bieber, whom she has just performed with a few days ago.
Whichever cover song she sang, she sang utilizing her inherent powerful voice, showing her brilliant way of singing. She was able to show her genuine talent and her depth as an entertainer.
"I am happy that I was able to cover John Lennon's "Happy Christmas" for J-Wave's campaign song. My Christmas wish for 2010 is my family's happiness, health and that everyone will have good things happen to them. I also wish for peace like what John wrote in his song. To all of you who came here today and to all the people who listen to my music, I love you all. Thank you!"
Charice left the stage with the words "I will be back in February 2011 for my solo concert".
Parts of this mini live concert will be aired on December 25 at 24:00 in a special program called "J-Wave Christmas Special Love and Peace Wishes Come True".
Charice Japan Concert Tour 2011
February 21 (Monday) at Zepp Nagoya
Gate opens: 18:00 Concert starts: 19:00
February 22 (Tuesday) and 23 Wednesday) at Zepp Tokyo
Gate opens: 18:00 Concert starts: 19:00
February 25 (Friday) at Zepp Osaka
Gate opens: 18:00 Concert starts: 19:00
Source: BARKS Global Music Explorer
by: Mooffin, charicemania.com
Possibly Related Posts (automatically generated):
Charice LIVE on Japan's J-Wave Radio, December 19 So we've heard her sing Jingle Bell Rock and Grown-up Christmas List live. If one of your Christmas wishes is...
Charice Appears in Japan's Mezamashi TV UPDATE: DECEMBER 23, Video with English Subtitles added! Charice continues her promotion tour in Japan with an early morning appearance...
Zepp Tokyo Concert Experience and Videos Drifting with Charice in Tokyo FEB. 27 UPDATE: SUBTITLED CONCERT HIGHLIGHTS VIDEO ADDED So here we all are standing at...